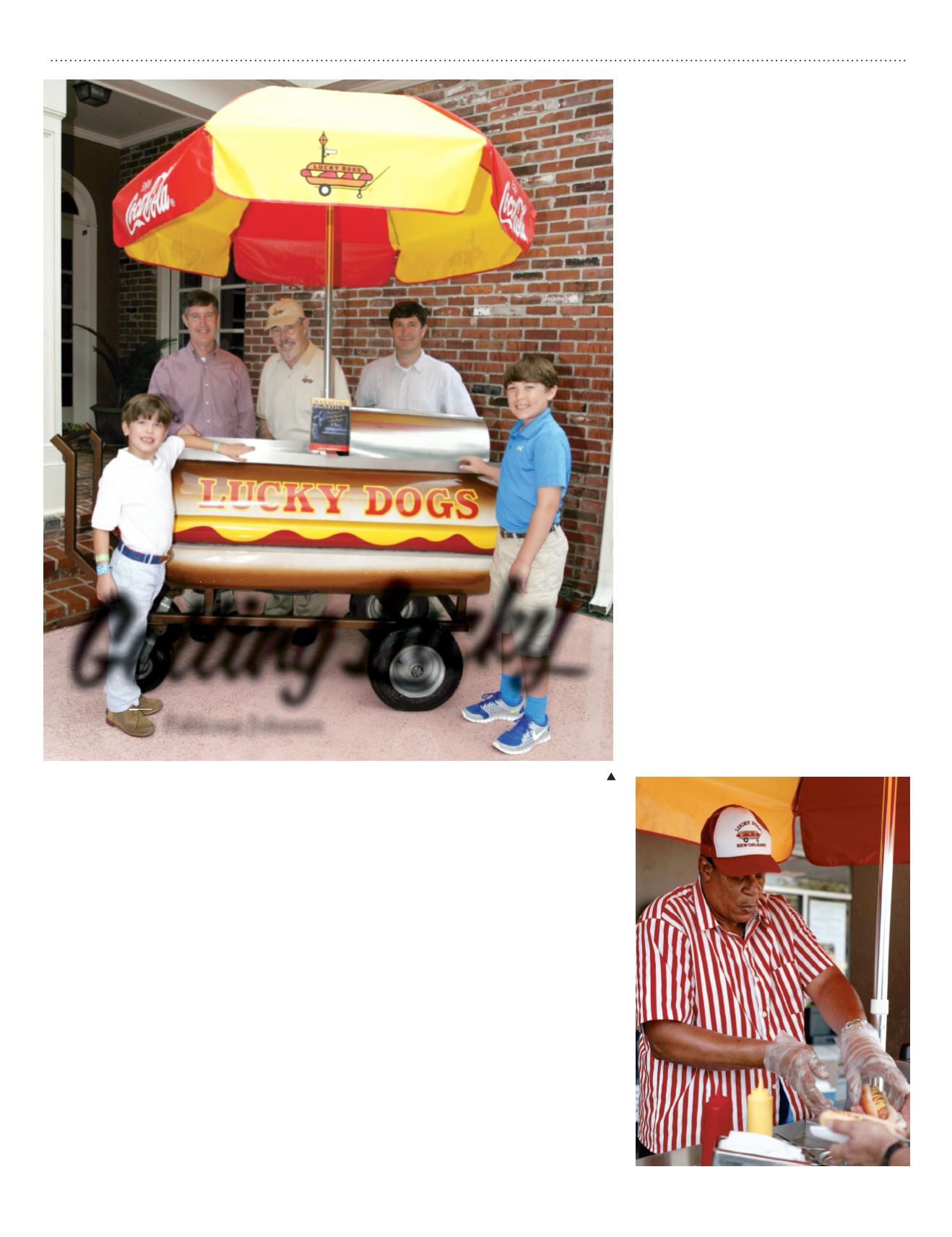 n a city known for its far-reaching culinary
culture, the Lucky Dog stands alone.
As a local workaday foodstuff, Lucky Dogs
aren't up there with a well-made po-boy
or a platter of fresh-shucked oysters at
the neighborhood raw bar (and rarely are
Lucky Dogs eaten during daylight hours).
As a hot dog, they don't garner the same
kind of national culinary street cred as their
counterparts in Chicago or Coney Island.
As a subject of literature, Lucky Dogs
are forever associated with the hilarious
but decidedly unsavory Ignatius J. Reilly,
the mysteriously loveable blowhard who
manned a fictionalized pushcart in John
Confederacy of Dunces.
Since 1948, locals and tourists have looked
at the Lucky Dog as a riff on the fast-food
frankfurter and acknowledged it for what
it often is— a specialty snack tailored to a
certain set of late-night circumstance.
Part of that is the Lucky Dog's natural
habitat — the French Quarter Neon Zone
(aka Bourbon Street). Add to that the fact
that they're served from a weenie-shaped
pushcart, late at night to patrons who have
consumed two or three more drinks than
would be considered "wise" under "normal"
circumstances — a level of recreational
intoxication sometimes referred to as
(Locals that are known to have their
share of long-running celebratory cocktail
sessions pride themselves as never reaching
Traditionally, the Lucky Dog target
market are the same first-timers drawn in
by the neon-lit facades of Bourbon Street
barrooms, conventioneers lured by post-
conference oversized beer vats, and roaming
bachelorette parties fueled by forbidden
fruity frozen drinks. These are the folks
who can't quite navigate the route to Rouses
Market on Royal Street before 1am or the
diner tables at the Clover Grill.
Like a lot of Bourbon Street specialties,
the appeal of the Lucky Dog breaks down
to equal parts well-lubricated impulse and
empty-gut biological imperative. If you
find yourself swilling fluorescent frozen
cocktails out of a plastic alien's head
for nine consecutive hours, there might
just be a Lucky Dog in your future. If
you've got five bucks in your pocket and a
powerful need for "some food, ANY food,
RIGHT NOW," then you're in the prime
But now, folks who'd like to try their local
hot dog in more "controlled conditions" are
able to purchase Lucky Dogs in the meats
section of local Rouse's markets. The hot
dogs ware available in packages of 5 and are
available exclusively at your local Rouses.
So if you'd like to taste how the French
Quarter standard fares after sizzling on
your backyard grill or a stovetop skillet,
now's your chance. Top them with your own
special chili during a Saints-day tailgate or
add your own special condiments — odds
are you'll be able to see a New Orleans
classic in a whole new (day)light.
by
Pableaux Johnson
The Talbot Family, owners of Lucky Dog, with one of their iconic pushcarts.