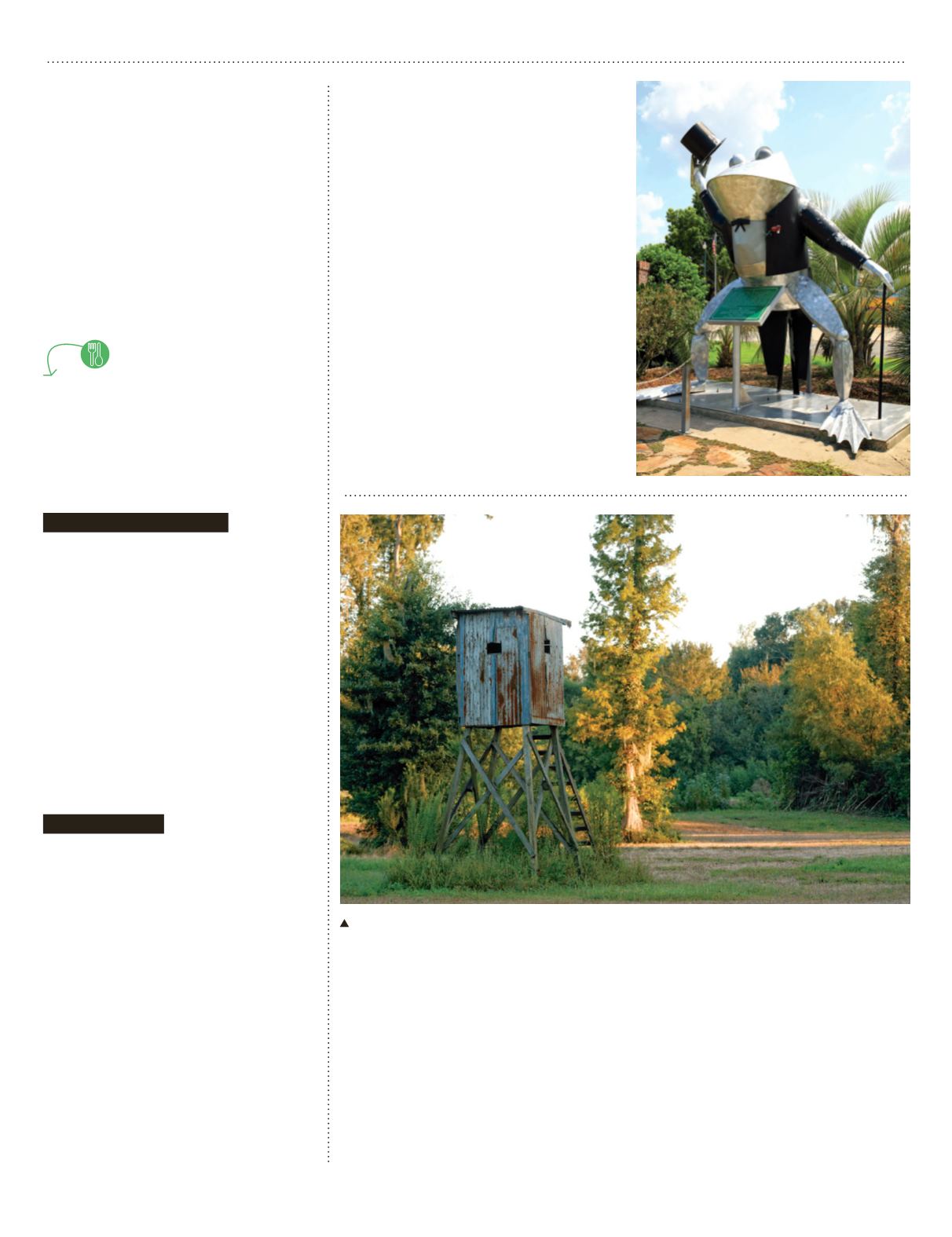 HUNTING
"We usually deer hunt in Amite County in Mississippi. The area is
wooded, with lots of little creeks, and it's a great place to hunt deer,
duck, rabbit, squirrel, wild turkey and wild hogs. During deer season,
we get to the stand about 30 minutes before daylight, come in for
lunch, and go back out until dark. My dad taught me how to hunt,
and I taught Donny. I tried to teach my daughter, Mandy, but that
didn't go as well.
('They kicked me out of the deer stand because I
talked too much!' –Mandy)
Donny shot his first 8-point when he was
12. His biggest is a 200-pound 10-point."
—Donald Rouse, 2nd Generation
HARE TODAY
People have been eating wild rabbits forever.
I love rabbit — smothered, fricasseed,
panneed and stewed (Emeril's recipe is a
classic). I'll use rabbit loin in place of veal,
or in a savory pie. Chef Aaron Burgau at
Patois stuffs Mississippi rabbit with boudin
then wraps the whole thing with chicken
skin to add even more fat and flavor. On
Sundays he serves fried rabbit with a biscuit,
eggs and Italian sausage cream gravy.
—Chef Tory
Emeril Lagasse's
Stewed Rabbit
This recipe appears in Emeril's
Real and
Rustic Cookbook
. For more of Emeril's
rabbit recipes go to
WHAT YOU WILL NEED
small rabbit, cut into serving pieces
(about 2 1/2 pounds, dressed)
tablespoon Emeril's Original Essence
cups sliced assorted wild mushrooms,
such as shitakes, oysters, and chanterelles
teaspoon coarsely ground black pepper
ounces tasso, finely chopped
tablespoons chopped green onions
HOW TO PREP
Heat the oil in a large heavy skillet over medium-
high heat. Season the rabbit with the rub.When the
oil is hot, brown the rabbit evenly, about 3 minutes
on each side. Transfer the rabbit to a platter and set
aside.Add the flour to the skillet and,stirring constantly,
make a medium brown roux, the color of peanut butter.
Add the onions, mushrooms, salt, cayenne, and
black pepper and cook, stirring constantly, for 3
minutes. Add the tasso and cook for 2 minutes.
Return the rabbit to the pan and add the wine. Cook
for 2 minutes. Add the broth and bring to a boil.
Reduce the heat to medium and cook, uncovered,
for 30 to 35 minutes, or until the rabbit is tender.
Turn the rabbit pieces over in the sauce every 10
minutes to prevent the rabbit from drying out.
Sprinkle with green onions and serve immediately.
(Serves 4)
Nick Acosta's deer stand. — photo by
Frank Aymami
RECIPE,
try me!
Rayne, Louisisana,
The Frog Capital Of The World
A tuxedo-clad giant metal frog greets
visitors to Rayne, Louisiana, a small town
by Crowley known as the Frog Capital of
the World. There are hundreds of frogs
in Rayne. Frog statues, frog murals, frog
pictures ... Chef Donat Puchet would be
proud. Ducet kicked off Rayne's reign as
the Frog Capital of the World in the 1880s
when he began exporting the city's bullfrogs
to restaurants in New Orleans. The
popularity of frog legs from Rayne drew the
attention of two enterprising Frenchmen,
the Weill Brothers, who changed Rayne
frogs from a Louisiana delicacy to ones
with national acclaim. At the turn of the
century, you could find Rayne frog legs
on menus as far away as New York.
—Marcy – Rouses Creative Director