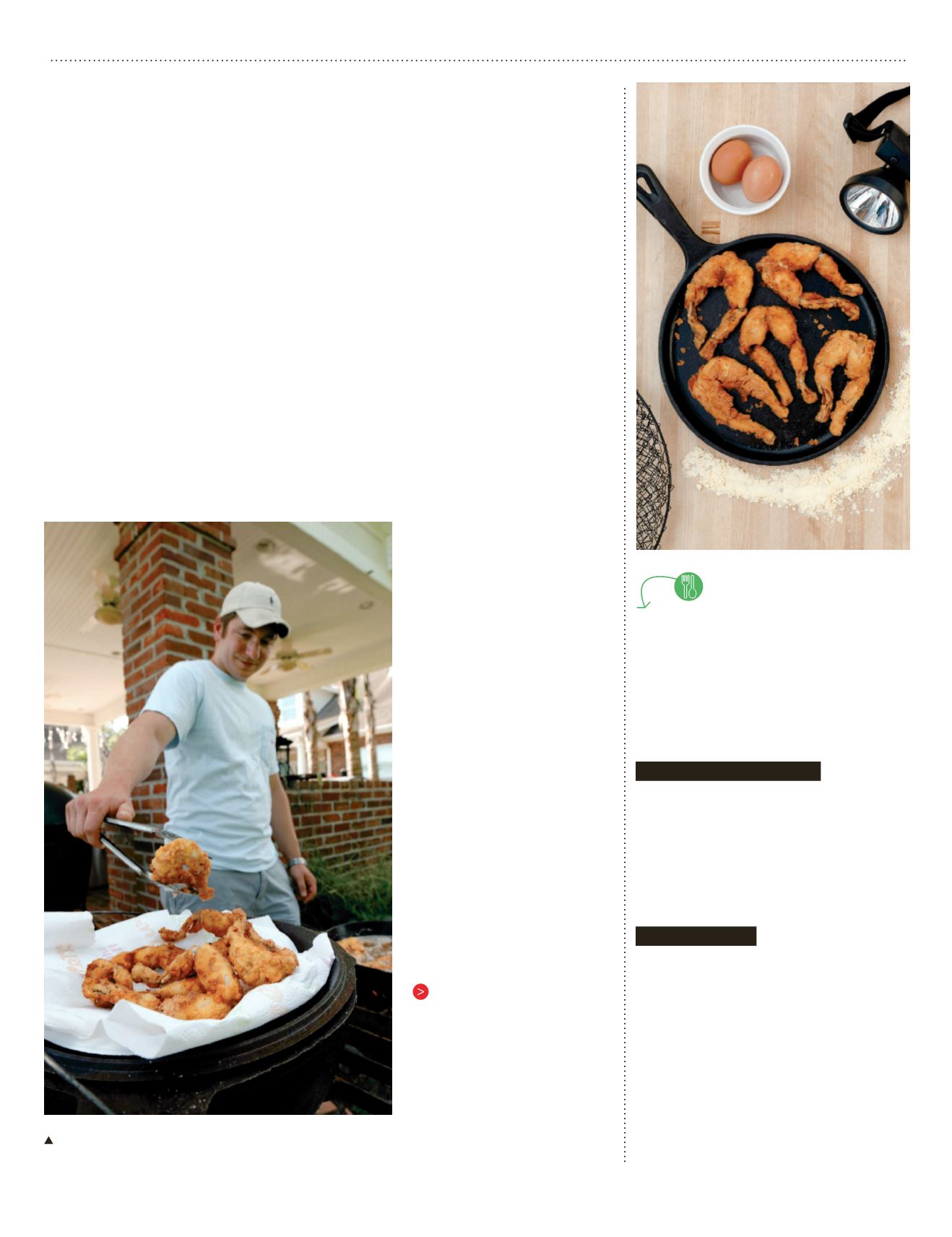 ou've heard the expression, a deer in the headlight? The same thing happens when
you shine a flashlight or spotlight at a bullfrog. Frogs are nocturnal, and like deer,
they're stunned by bright, direct lights. Like raccoon and owl eyes, frog eyes also
reflect light. Shine a bright light in a dark bayou during frogging season, and you'll spot a
frog. You'll also probably spot an alligator (look for the red eyes), snakes, spiders, raccoons,
otters, swamp chickens, poule-d'eaus and a few other froggers.
Stunned frogs can't see, but they can hear the boat and feel the movement of the water. You
can usually still get pretty close before they realize you're there.
Paw Acosta taught me how to frog, and PawPaw Rouse helped me string the lights on the
mudboat my dad and I built. PawPaw loved to fiddle with anything electrical, and he loved
I frog barehanded, which is the way Paw Acosta taught me, but you can use a gig or grabber.
I wish I'd had a gig or grabber the night I got my hand caught between the boat and a
stump; I still can't straighten out the pinky on my right hand.
Be careful when you get close
to a tree. Spiders, and alligators,
hang out in the branches.
We usually launch at Theirot
Landing on Highway 308, but
there are bullfrogs in bayous,
canals, lakes, ponds, almost
anywhere with slow-moving
water. If you want to try your
(bare) hand at frogging, you
need a fishing license, and a
boat rigged up with proper tags,
licenses and life preservers. You
can frog almost all year long,
except spawning season (April
and May), but in September
the swamps really start to lower,
and less water drives the frogs
to the banks of the bayou,
which makes them easier to
catch. There are no limits on
bullfrogs, but you do need to
make sure each frog measures at
least 5 inches nose to tail.
There's A Frog
in my Soup
The long defunct Mardi
Gras Brand factory in New
Orleans processed, cooked
and canned frog legs, and
sold Frogs' Legs Soup,
Frogs' Legs á la King and
Frog á la Queen.
by
Nick Acosta, 3rd Generation +
photos by
Frank Aymami
Nick Acosta, 3rd Generation, at the skillet. "I've been frogging since I
could first shine a flashlight."
Nick Acosta's Frog legs
We sell already cleaned frog legs in our
Seafood Department. If you're using fresh
caught, skin the frogs as if you were peeling
off a glove, and soak the legs in coldwater for
at least two hours.
WHAT YOU WILL NEED
2 to 2½ pounds small frog legs
teaspoons Rouses vegetable oil
Rouses vegetable oil for deep frying
HOW TO PREP
Using kitchen shears, snip the small bone
connecting the legs and remove the feet.
In a small bowl, whisk together milk, oil and egg
yolks. In separate bowl, beat egg whites until stiff.
Fold egg whites into milk, oil and egg yolk mixture.
Sprinkle frog legs with Creole seasoning. Dip each
in milk-egg mixture and dredge in flour.
In a black iron pot or deep fryer, heat vegetable oil
to 375°. Fry frog legs until golden brown. Using a
slotted spoon, transfer frog legs to paper towels to
(Serves 4 to 6)
reCIpe,
try me!