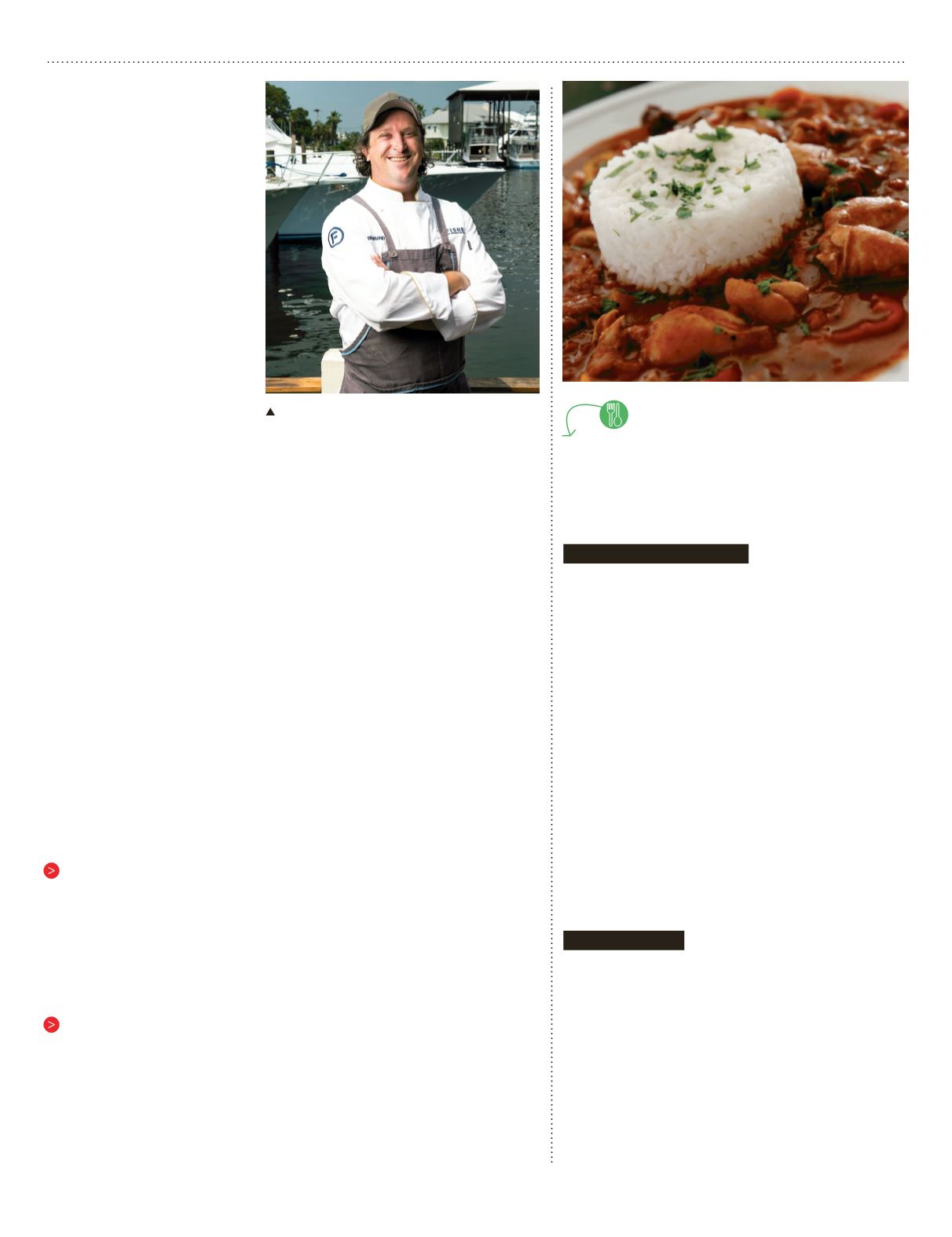 HUNtING
swamp piquant
Rouses Chefs were inspired by Chef John Folse's recipe
for Seafood Piquant to make our own version with
alligator, frog legs and turtle meat.
WHAT YOU WILL NEED
1½ pounds alligator meat, sliced
1½ pounds turtle meat, sliced
pound frog legs, connecting tendons removed
½ cup Rouses vegetable oil
tablespoons minced garlic
8-ounce can of tomato sauce
cup diced tomatoes, canned or fresh
tablespoon Rouses hot sauce
teaspoon Rouses Creole Seasonings
Rouses salt and black pepper to taste
HOW TO PREP
In a one-gallon (or larger) heavy-bottomed saucepot, heat oil
over medium-high heat. Whisk in flour, stirring constantly until
you get a dark brown roux. Add your onions, celery, bell pepper
and garlic, sauté 3-5 minutes or until vegetables are wilted. Stir
in tomato sauce, diced tomatoes and a tablespoon of hot sauce.
Add alligator and turtle meat, bay leaves, Creole Seasonings,
thyme and basil. Mix well. Slowly add fish stock, one ladle at
a time, stirring constantly until the stock has been completely
incorporated. Bring sauce to a low boil, reduce to a simmer, and
cook for 30 minutes. Add frog legs and cook an additional 5
minutes. Add green onions and parsley and season to taste using
salt and pepper. Serve with white rice.
reCIpe,
try me!
and head straight for the specialty
meats to get sausage, boudin,
and tasso (chunks of seasoned,
smoked pork) to go in the eggs.
My buddy takes the other one
to produce for onions and garlic.
While he gets the other groceries,
CookING At
tHe CAMp
There are four coffee pots at the
camp, and I make sure they're
all full when everyone gets up
at 5:30am. We used to rise at
4:30am, but the time we get up,
like the currents, has changed as
Mom was right, the most important meal of the day is breakfast, especially
when you're hunting or fishing. Sausage, eggs, bacon, biscuits, I load them up.
I pack lunches for the boat: sandwiches made with Rouses deli meats, hogshead
cheese and crackers, Rouses venison or beef jerky. The ice chests are filled with
cheap, cold beer. I like it light when I'm riding in a boat all day. High Life keeps
Sometimes I'll stay behind and roast a whole pig on a spit at Johnny's. Every
boat that goes by gets a sniff, but only we get a taste.
I get all beat fishing in the sun all day, so I try and keep dinner fast and easy
by simply filleting and frying or grilling the day's catch. I'll maybe make
hushpuppies with the extra fish fry batter (the camp version is not nearly as
good as my restaurant version with ham and green onion). On the last night, I'll
boil the crabs in Zats with extra lemons, onions, potatoes and a pound or two
of Rouses smoked sausage.
No, Deer
I love to duck hunt, dove hunt, shoot wild turkeys, hunt pheasants. I even went
frogging in Henderson when I worked in Lafayette. I draw the line at deer
hunting, though. I tried it, once, in Mississippi, but it just wasn't my thing. I
can't sit in a deer stand all day. I cook standing up. I eat standing up. I'm just a
The Cajun Bahamas
You've heard of swimming with the sharks? How about swimming,
boating, tubing, jet skiing and grilling, yes, grilling with the
alligators in knee-deep marsh water just outside Bayou Dulrage.
A mudflat behind a sandbar at the southwest corner of Lake De
Cade was recently christened the Cajun Bahamas. It's paradise with
plenty of local personality.
What is Hogshead Cheese?
If you're not familiar with hogshead cheese, don't let the name put
you off; hogshead is really just a mixture of pork and seasonings
with some gelatin to hold it together. Think of a pâté or terrine.
We make ours with pork jowls, onions (green, white, yellow and
red), garlic, celery, bell peppers and a lot of seasonings — you need
more seasonings for cold food, and most people eat hogshead
cheese cold, with crackers or on white bread. It's also great fried.
Chef Bill Briand
photo by
Frank Aymami