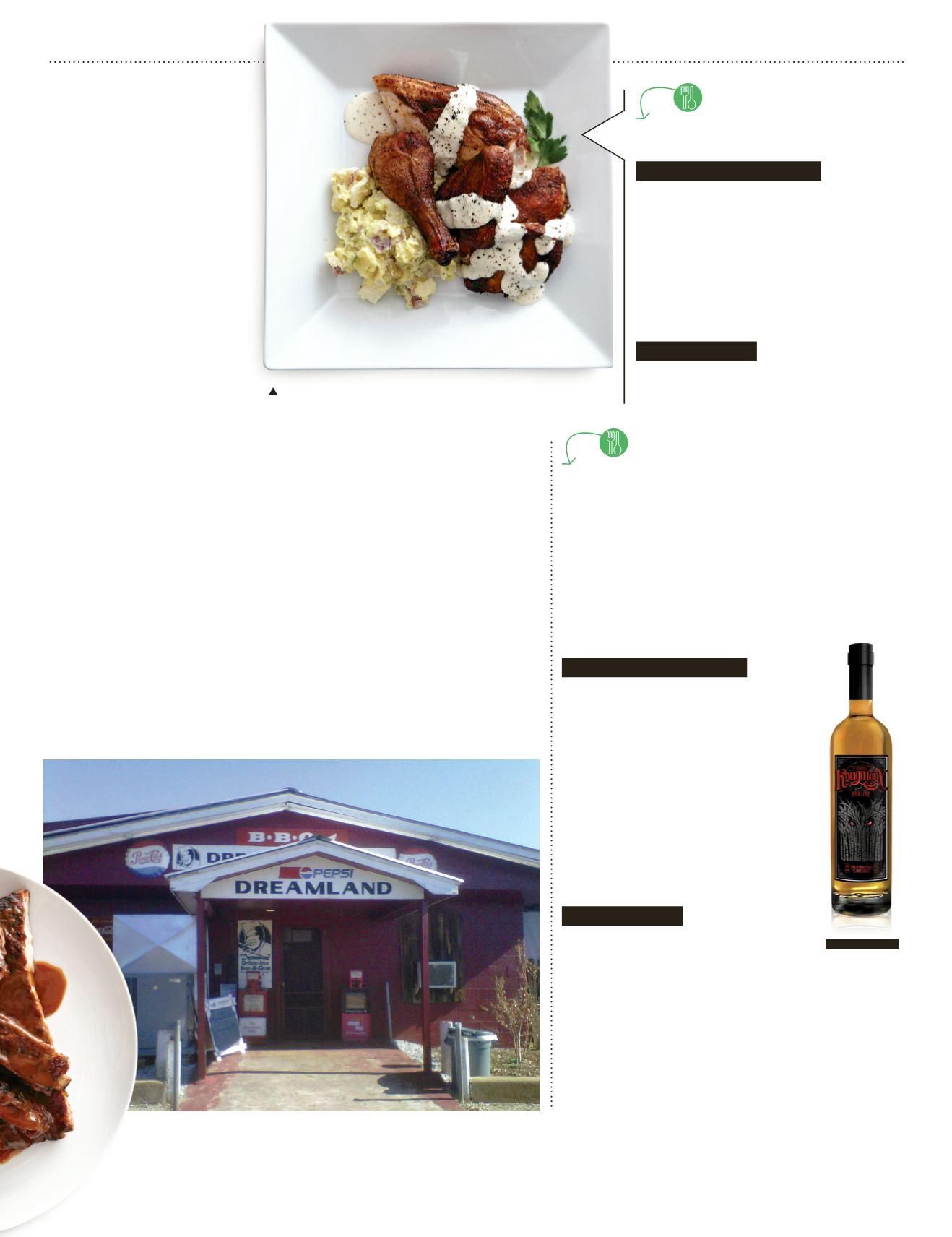 sAUCes
Alabama Is
Big on BBQ
There are two BIG names in
Alabama barbecue: John "Big
Daddy" Bishop and Big Bob
Dreamland Bar-B-Que
original. Big Daddy opened the
Dreamland Bar-B-Que
Tuscaloosa more than 50 years
ago and expanded when word
of his sauce spread. The mixture
of tomato purée, mustard, cider
vinegar, dark corn syrup, chili
powder and Cayenne pepper
is the perfect match for the
restaurant's hickory smoked meats (and my own hickory smoked ribs). Plates
come with white bread to sop up your extra sauce.
Before Big Daddy, there was Big Bob. In 1925, six-foot-four, 300-pound,
Robert "Bob" Gibson created an entirely new style of barbecue sauce: white.
The legendary pit master used mayonnaise as his base for the vinegary barbecue
sauce he used to dunk hot, smoked chickens that came out of his hand-dug pit.
Gibson went on to open a restaurant, Big Bob Gibson's Bar-B-Q's, and his pit
crew went on to win six World Championship BBQ Cook-Off trophies. You'll
find Bob's original at the restaurant and thicker and thinner versions of his
white sauce served original all over North Alabama. It's great as a marinade,
baste and dipping sauce, and don't just save it for chicken; white sauce is great
with all sorts of smoked meats.
Other Great 'Bama BBQ:
In 2013, Archibald's Bar-B-QUE in Northport was rated
Number 6 in USA's Today's list of 20 Top Ribs; Jim 'N Nick's Bar-B-Q, started by a
father-and-son team in Birmingham in 1999, now has 33 restaurants in 7 states.
rouses rougaroux
red BBQ sauce
Created by Rouses Chef Terry, Thibodaux
"I grew up eating sweet red barbecue sauce, both
homemade and Jack Miller's straight-off-the-shelf at
Rouses. Rougaroux Praline Rum is made in Thibodaux
using local sugarcane. The cane adds even more
sweetness to the sauce." —Terry
WHAT YOU WILL NEED
28-ounce can crushed Cento tomatoes
cups of Rougaroux Praline Rum*
½ cup Cajun Garlic Power sauce
sugarcane swizzle sticks, halved
tablespoon Rouses hot sauce
tablespoon instant coffee
HOW TO PREP
In a medium pot combine tomatoes, ketchup, rum, vinegar and
Cajun Garlic Power sauce. Add shallot, sugarcane, cumin and
salt, and stir to mix. Bring to a boil over medium heat, stirring
occasionally. Reduce heat and let simmer for one hour until sauce
has been reduced by half. Add molasses, hot sauce and instant
coffee. Simmer for another 20 minutes, stirring occasionally. Let
*CANE TO COCKTAIL! You can substitute any of Donner-
Peltier's Rougaroux rums; they are all made at their
distillery in Thibodaux using locally grown sugarcane.
reCIpe,
try me!
Big Bob Gibson's sauce
WHAT YOU WILL NEED
cup distilled white vinegar
teaspoons prepared horseradish
teaspoons ground black pepper
teaspoons fresh lemon juice
½ teaspoon cayenne pepper
HOW TO PREP
In a large, non-reactive mixing bowl, combine all
ingredients and blend well.
reCIpe,
try me!
Big Bob Gibson's B-B-Q, Decatur, AL — photo courtesy
Alabama
TourismDepartment,