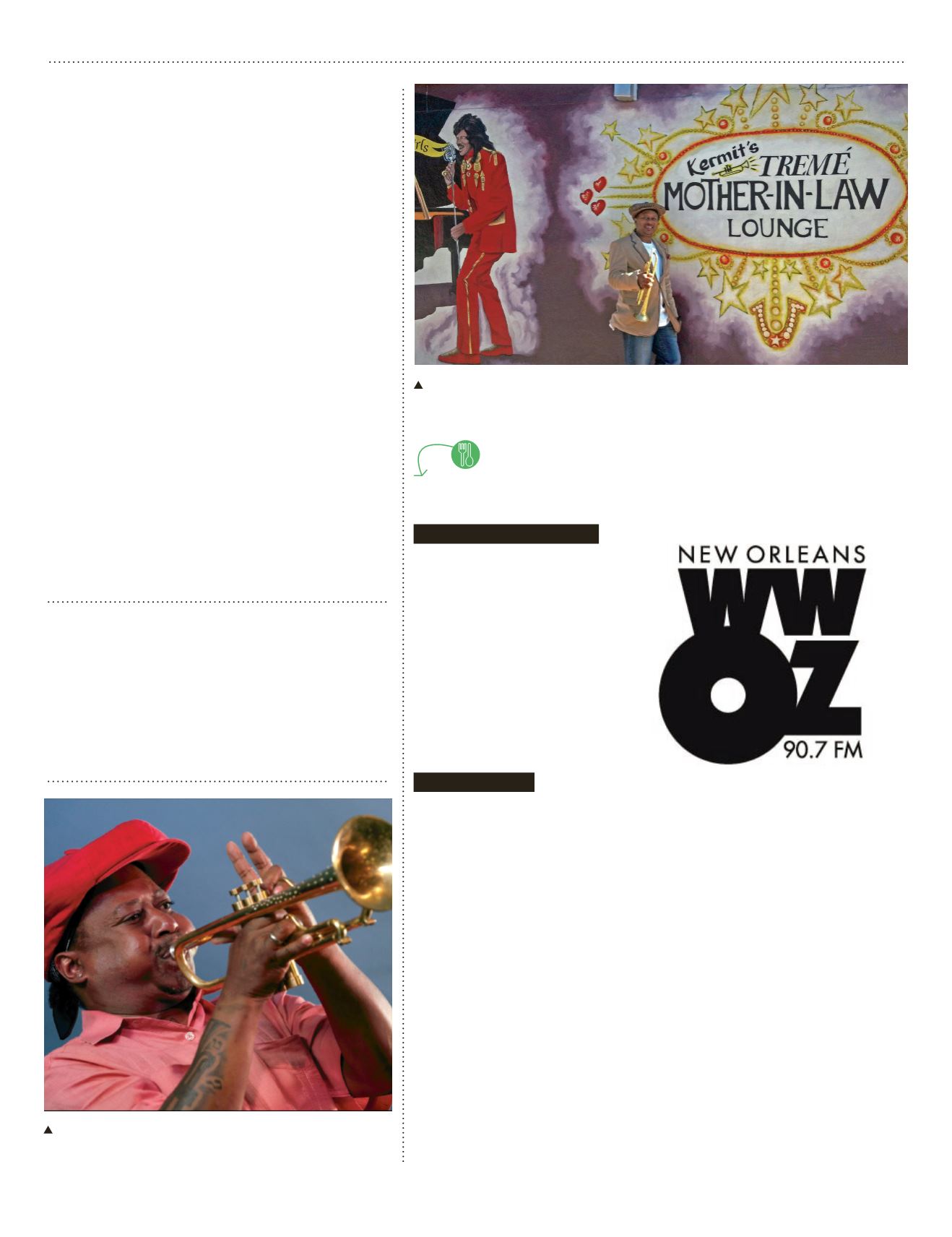 "Kermit cooks country-style, which is
what I like to do ... red beans, rabbit,
whole turkey, and just the necks. We sell
plenty of turkey necks at Rouses. There's
a lot of meat and flavor in them. I serve
them pan-fried and smothered in gravy."
—Donald Rouse, 2nd Generation
kermit ruffins BBQ smoked turkey
WHAT YOU WILL NEED
A couple of Louis Armstrong records
An ice chest full of beer
Tony Chachere's Creole Seasoning
Zatarain's liquid crab boil
Turkey liquid injection sauce
New Orleans sausage (optional)
½ cup (1 stick) of salted butter
HOW TO PREP
Okay, put on one of those hot albums and let it rip. Reach into the ice chest and grab yourself
an ice-cold beer. After a few swigs, wash the turkey and put it into an aluminum pot. Coat
the turkey with olive oil. Coat with Tony Chachere's seasoning heavily. Don't worry about
Make sure you don't let your beer sit too long. Mix half of the crab boil with half of the
turkey injection sauce.Well, put in a little more crab boil, what the hell. Inject the turkey, legs,
bosoms and wings. Don't worry — he won't feel a thing.
Now you can stuff the turkey with anything you want. I like to use New Orleans hot sausage.
Take off the casings. Stuff that bird with the sausage, onions and garlic — you know what to do.
Open up a fresh bottle of ice-cold beer. Put half a cup of water and the butter in the bottom
of the pan. Cover the bird with four or five sheets of aluminum foil.
After you turn the record over and listen to side B, put the bird on the grill. Make sure that grill
is really hot! I hope you got extra hickory wood, because that turkey needs to cook a good
4½ hours. After drinking most of your cold beer and listening to those Armstrong records a
couple of times, uncover the turkey so it can soak up the smoke for another 30 minutes. This
Recipe courtesy Kermit Ruffins and
That Sounds Good, A Cookbook Celebrating 30
Years of WWOZ
, available at Amazon and local bookstores. Join Rouses and Kermit
Ruffins as
Guardians of the Groove
. Donate, volunteer, listen and support WWOZ.
reCIpe,
try me!
loUIsIANA BBQ
kermit ruffins &
the Barbecue swingers
by
Marcy – Rouses Creative Director
Trumpeter, singer, writer, composer, bandleader and
barbecuer Kermit Ruffins co-founded the Rebirth
Brass Band in 1983 with fellow marching band
members from Clark Senior High School in Treme. In
1992 he started the Barbecue Swingers, a jazz band that
performs a mix of standards and Kermit's own tracks.
The band became a Thursday night staple at Vaughn's
in the Bywater for over 20 years, with Lenny Kravitz,
Wynton Marsalis, members of the Rolling Stones, and
Harry Connick, Jr. all sitting in. But music wasn't the
only draw at Vaughn's; Kermit likes to cook before and
between sets, and his barbecue skills are as legendary as
"I can tell how long his set is, by what he buys."
—Keith – Rouses Butcher, Carrollton in Mid City
These days Kermit performs all over the world,
including a regular schedule at Ernie-K-Doe's old
lounge — and Kermit's new one — Kermit's Treme
Mother-In-Law Lounge at the corner of North
Kermit Ruffins' Treme Mother-in-Law Lounge. Kermit Ruffins reopened the iconic Mother-in-Law
Lounge, which was owned by Ernie K-Doe of "Mother-in-Law" fame. K-Doe died in 2001, but his
wife, Atoinette, continued to manage the place until she died, Mardi Gras day, 2009.
Kermit Ruffins, courtesy Basin Street Records. Kermit's new CD, We
Partyin' Traditional Style, is available at local record shops, bookstores
and music venues, as well as online.