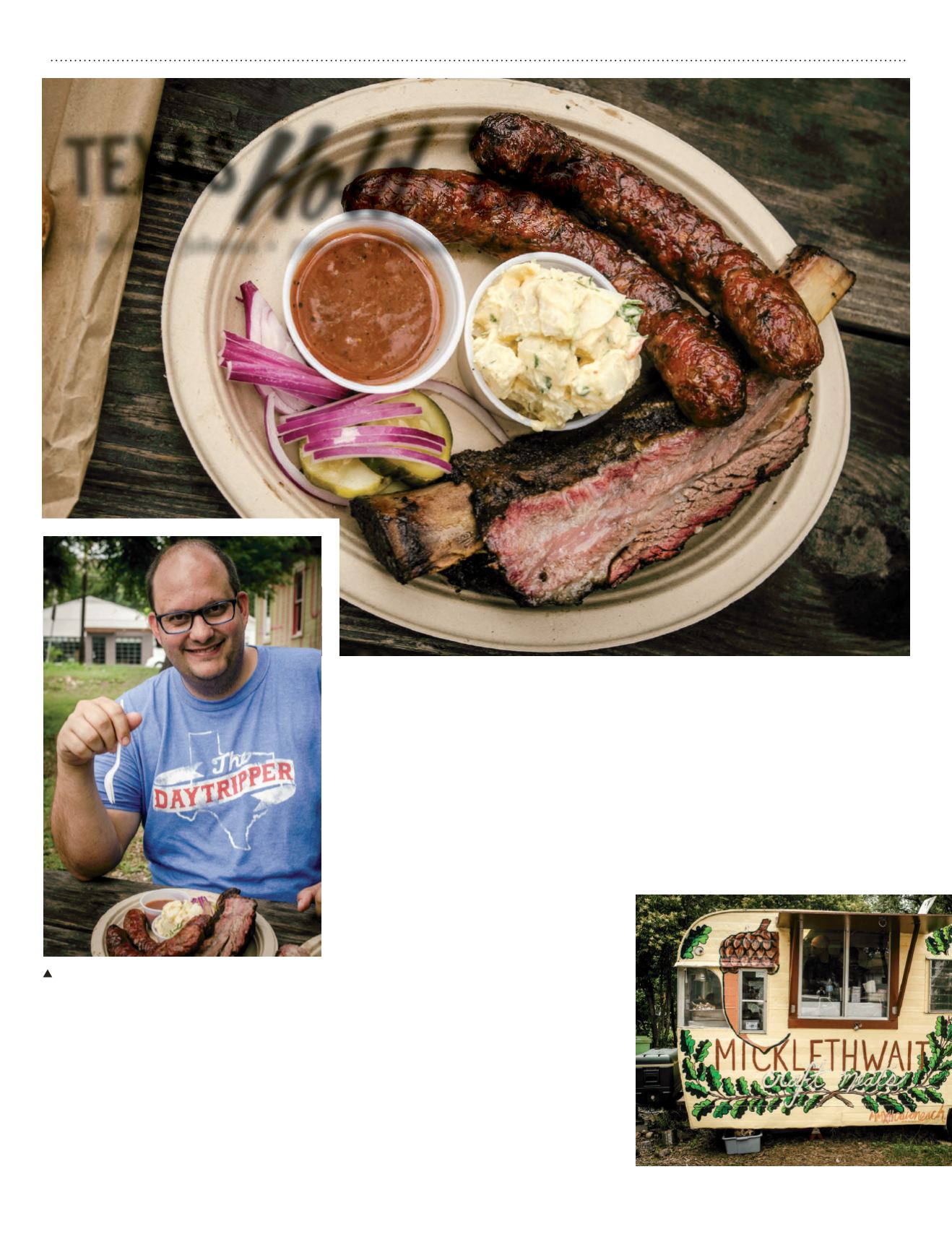 t was about 11:30 when we walked up
to the secluded meadow on Austin's
east side. A little early for lunch by local
standards —most musicians were likely still
drowsing and tech folks stuck in meetings
— so we had our run of the handful of
picnic tables scattered around the "food
truck court" on Rosewood Avenue.
A haze of blueish oak smoke hung in the
air, emanating from one of the screened-
in trailers built around a huge iron pit. A
tiny 1960-vintage travel trailer served as
kitchen, ordering counter and makeshift
billboard (MICKELTHWAIT CRAFT
MEAT in two-foot letters) and with the
day's menu (Brisket, pork shoulder, chicken,
beef ribs) written on yellow paper taped to
the window. Willie Nelson's melancholy
"Red Headed Stranger" drifted around the
scene, and the little lot smelled like a hidden
corner of meaty, slow-smoked heaven.
Welcome to Austin barbecue, 2014.
When I contactedDaniel Vaughn, Barbecue
Texas Monthly
an impending visit to Austin, he suggested
that we make the rounds, visiting the city's
standout pits and surveying the modern-
day central Texas barbecue scene.
Vaughn, a former commercial architect,
came to prominence through his website/
blog Full CustomGospel BBQ, a somewhat
obsessive sideline project that launched him
to the national stage and his current gig
Texas Monthly
. Over time, his dedication
and writing got him noticed by, among
others, TV chef/personality Anthony
Bourdain, who published Vaughn's
Prophets
of Smoked Meat
as the first offering of his
book imprint Ecco Books. By his own
estimation, Vaughn's statewide beat requires
him to cover the state's 1900 commercial
barbecue joints. Even for someone who
tweets under the name BBQsnob, that's a
Into the heart of Austin Barbecue with Daniel Vaughn
(pictured).
by
Pableaux Johnson +
photos by
Pableaux Johnson