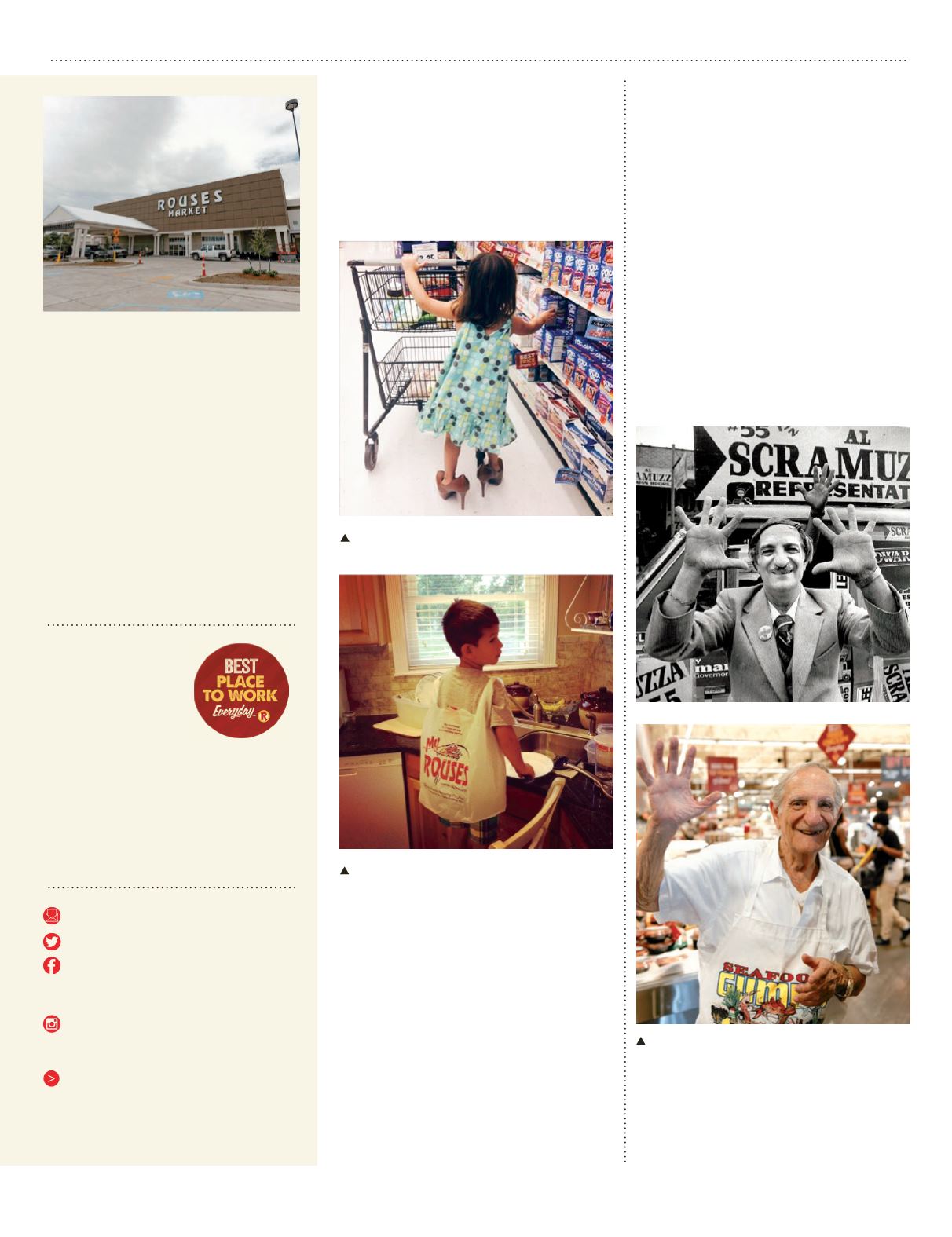 New At roUses
SCRAMUZZA!
"Seafood City is a very
pretty"
Al Scramuzza's
Seafood City
1826 North Broad in Gentilly may have
closed in 1994, but Scramuzza's famous
jingle, and famous seafood boil recipe, live
on. Scramuzza developed his recipe in 1950
but only packaged it for the first time this
"I put it in the vault for 20 years."
mix contains 14 ingredients – the usual salt,
pepper, garlic, onion and lemons – plus 9
secret spices. It's those secret spices, Al
says, that make his boil "colossalful and
humongous." You can buy Al Scramuzza's
Seafood City Boil at Rouses Markets in
Orleans, Jefferson and St. Tammany Parish.
I feel good! I feel good! I feel good!
letters
I was not familiar with "ROUSES" until our
family vacation to Gulf Shores, AL, last week.
My wife and I are from and live in St. Louis,
we Believe Grocery shopping
should Be Fun
"We want you to have a great shopping
experience every time you visit Rouses,
whether you're coming in for a gallon of milk
or doing a whole week's worth of shopping."
—Ali Rouse Royster, 3rd Generation
thank You for voting us
Best GroCerY store
Thank you Times of Acadiana readers for
voting #Rouses the #1 best grocery store in
Acadiana again this year! #BestOfAcadiana
We're celebrating our first six months in
Lower Alabama and our first Nappie Award
for Best Grocery Store in Mobile #Nappies
Thank you Biloxi Sun Herald readers for
voting us Best Supermarket on the Gulf
Coast again this year. #PeoplesChoice
We're excited for you to see our newest Rouses
Market in Gretna's Westside Center at the
corner of theWest Bank Expressway and Stumpf
Boulevard, now open. This is our third Rouses
Market on theWest Bank and the first one in the
area that we built from the ground up.
91 West Bank Expressway, Gretna
We're Growing! Look for new Rouses Markets
in Lafayette and Denham Springs opening soon.
To find store hours, addresses, phone numbers
for any Rouses Market, go to
JOIN OUR TEAM
quality and service. If you're looking
for a career you'll love, apply online
VOTED ONE OF THE
BEST PLACES TO WORK
Write Us!
Tweet Us!
Like Rouses?
facebook.com/rousesmarkets
Share Photos!
SIGN UP FOR E-MAILS
Hungry for more?
Sign up to receive our weekly specials
and cooking tips, recipes and special
offers in our e-mails and newsletters.
This is how we grocery shopped in
#Rouses he won't get wet washing dishes
Al Scramuzza