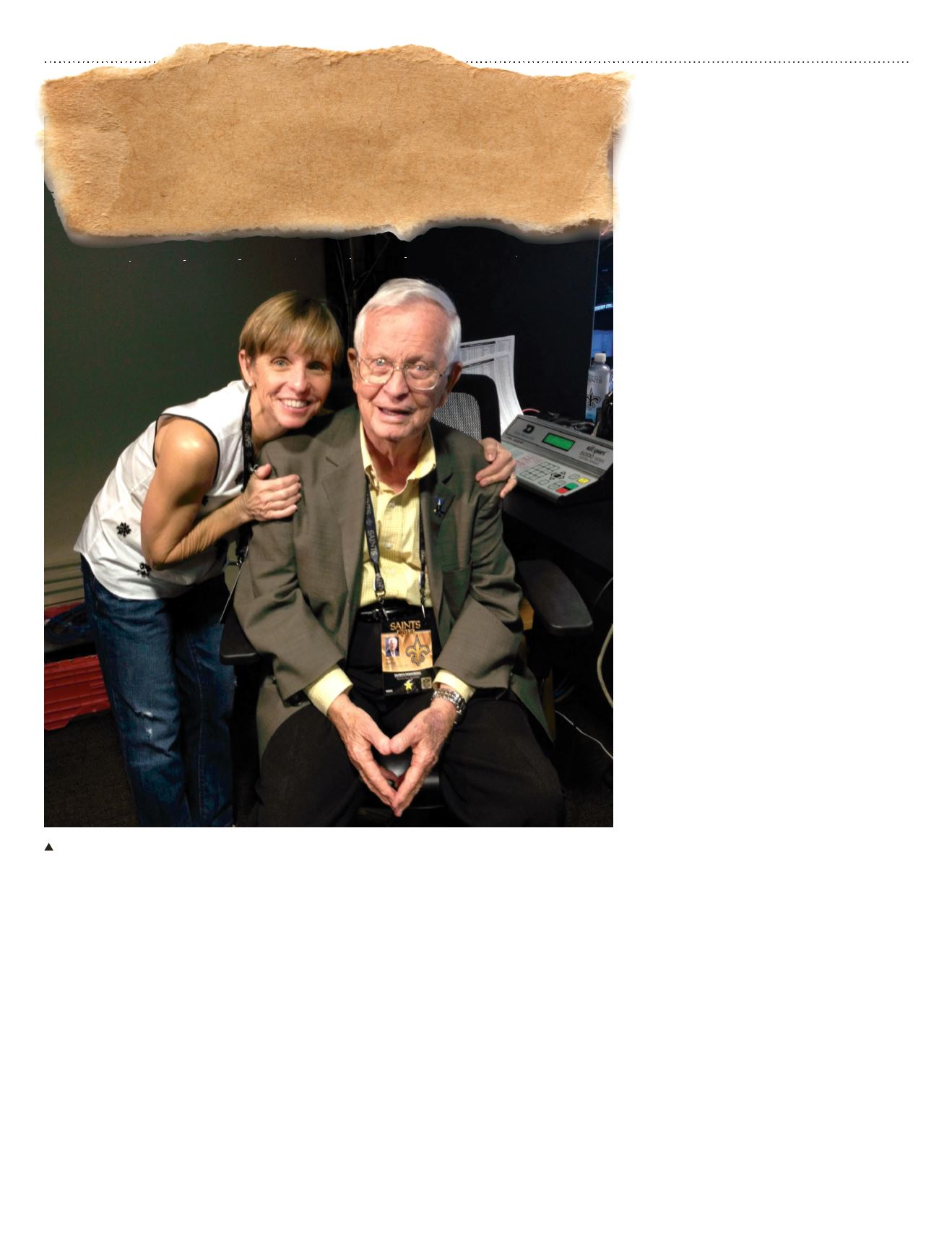 tHe sAINts
here are two seasons in homes of
the Jerry Romig family … football
season and waiting for football
season. When the New Orleans Saints
open training camp, the eyes of an entire
family spanning three generations begin
to take the shape of footballs and there
is a decided skip in our collective steps as
we watch walk-throughs and pre-season
games, roster changes and position battles.
Football is more than an autumnal
obsession for us, an avocation of sorts, due
mostly to the fact that my eldest brother,
Jay, has worked for the team in one capacity
or another for 39 years. He is currently the
by
Mary Beth Romig
Administrative Director, and among other
responsibilities, coordinated the training
facilities at Greenbrier for the team.
And deepening our roots, our dad, Jerry
Romig, was drafted to fill the position of
public address announcer for the Saints home
games at the start of the team's third season.
Dad held that position for the next 44
seasons, never missing a game, even during
the dreaded year of Katrina when the team
played their home games in San Antonio
and Baton Rouge. His familiar voice and
trademark calls have become the stuff of
legends. … "FIRST DOWN, SAINTS"
… "Iiiiiiiiiiiiiiiittttt's
COOOOOOLE-STON" … and a crisply
delivered "Drew Brees." So known for
those phrases, he would often get stopped
in elevators and even the grocery store aisle
and asked to "Say it, please, Mr. Romig, say
'First Down.'" In recent years, folks have
even taken to recording his voice for their
Through those years, Dad had his own
team of sorts, himself the quarterback with
two spotters on either side, each with their
own game plan. Buddy, a family friend,
is a veteran of over 40 years. His position
involves identifying the players involved
in each play, mainly the tough calls on
defense. In 1992, I was drafted to play the
other spotter. My main job is to determine
the yardage gained or lost on each play,
distances of pass completions, punts, kick
returns and field goal attempts, and assisting
in identifying the ball carrier or pass receiver.
Other factoids are fed to me through a
rather cumbersome pair of headsets from
the official stats crew stationed in the high
perches of the press box. Our team works in
House Controls, a booth along the loge level,
sandwiched like fish in an aquarium between
glass enclosed luxury suites, fans able to stare
at us any anytime during the game.
Through the years, we've seen a lot of
bad football, as all fans know the pain of
those lean years when the Saints found
themselves on the losing side of games
all too often. But how those times have
changed, particularly since 2005, with the
arrival of Sean Payton and Drew Brees, and
winning seasons, playoff appearances and a
For more than 20 seasons, these afternoons
and evenings presented me with a rare
opportunity for some father-daughter
bonding for a little girl who wanted to be a
sports writer when she grew up. As a child,
some of my favorite times spent with my dad
were accompanying him on his Saturday
morning trips for the week's groceries, or
sitting by him while he polished his work
shoes on his wooden shoe stand, the smell
of the shining grease still distinct in my
memory. Joining him in the now-named
Jerry Romig House Controls booth in the
Mercedes-Benz Superdome was a thrill,
sitting elbow to elbow or standing by his
side, like "one of the boys," sharing in a
unique view of the action on the field.
Mary Beth Romig and her father, Jerry Romig — photo courtesy
Mary Beth Romig