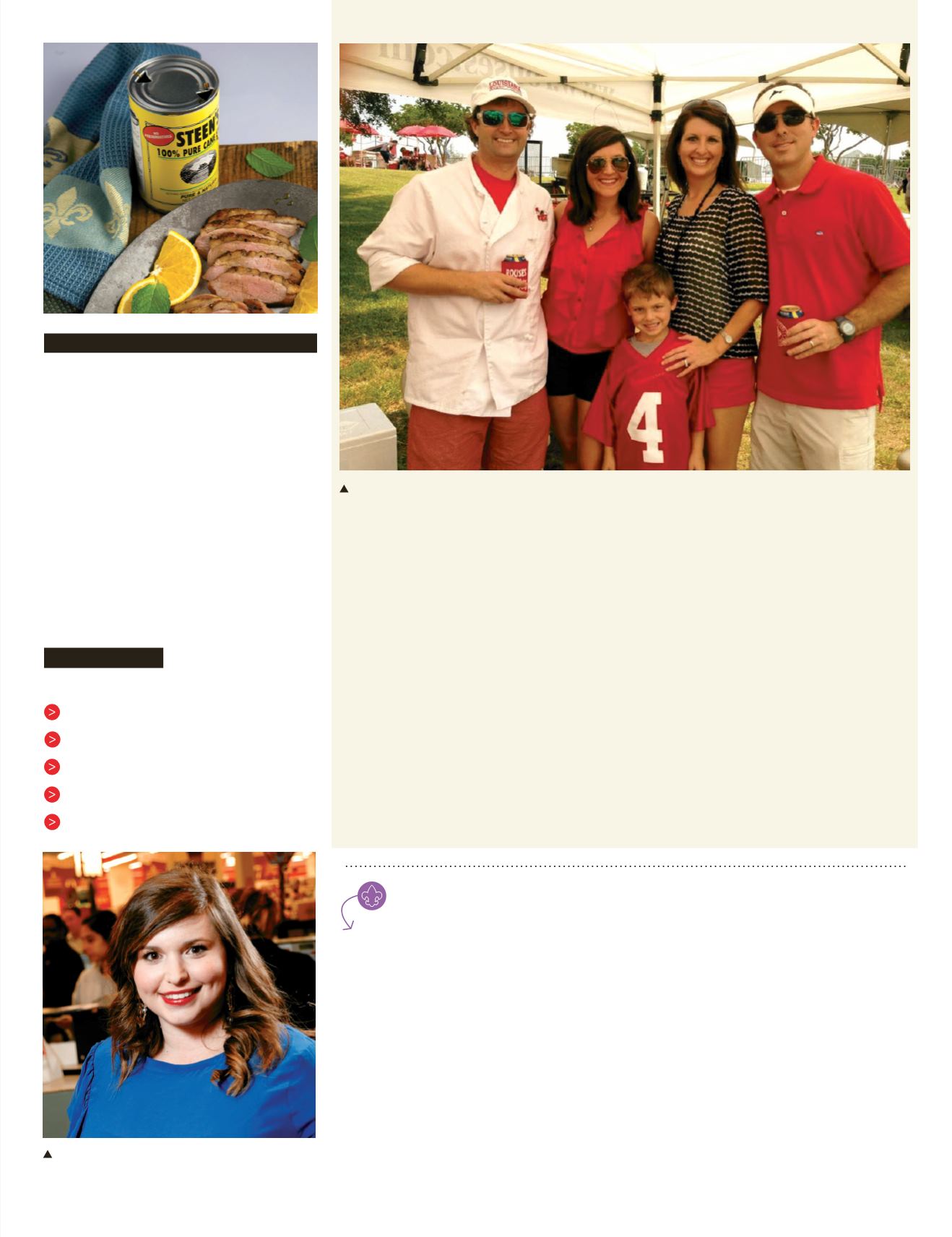 FOOD FOR THOUGHT
In 1910, faced with a frozen crop of sugar
cane, Mr. C. S. Steen, Sr. started extracting
juice from sugarcane stalks to make syrup.
Five generations later, the C.S. Steen Syrup
Mill in Abbeville, Louisiana, is one of the
oldest functioning cane syrup mills in the
Sugarcane is big business in Louisiana.
About 1.5 million tons of sugar is
harvested in Louisiana every year. Cane is
making Louisiana craft spirits able, from
Bayou Rum in Lacassine, Louisiana, to New
Orleans Rum, to the Rougaroux Rums
made at Donner-Petltier Distillers in our
Football on page 8.
Barbecue on page 14.
Hunting on page 28.
Frogging on page 30.
Outdoor Cooking on page 42.
IN THIS ISSUE
ur homebase is in Thibodaux, which is right, smack in the middle of Colonel
Country. We have three stores near Nicholls State, including one on Audubon
by the stadium. In our world, football is synonymous with food, and our chefs
and cooks prepare a game day spread that can't be beat.
I'm a UL alum, and at least once a year my college friends and I head back to Lafayette to
tailgate at Cajun Field, which is right across the street from our market on Bertrand Drive.
As any Ragin' Cajun will tell you, tailgating is a must before heading into The Swamp.
It's our first football season in Lower Alabama and our new market on Old Shell Road in
Mobile is close to Ladd Peebles Stadium where the South Alabama Jags play. (The Jags take
on UL in Lafayette November 11th.) Our Alabama stores are Rouses Ready for tailgaters.
In New Orleans, tailgating has finally come back to Tulane University, where college
football is being played on campus for the first time since 1974. #LetsMakeWaves at the
We'll see you at our stores — and in the stadiums!
Southern Food &Beverage Museum
construction on Oretha Castle Haley in New Orleans. This unique museum of
culinary culture and history, run by My Rouses Everyday contributor Liz Williams,
includes exhibits, a culinary library and archive, a full-service restaurant and bar, and
Rouses Demonstration Kitchen
Bayou Country Children's Museum
in Thibodaux can board a shrimp
boat or John Deere combine harvester, traverse the sugar cane maze, sit in a duck
blind, and our favorite, "shop" for produce at the Rouses Farmer's Market. We're proud
to partner with the Bayou Country Children's Museum to bring our local culture to
Open
Tuesday-Saturday, 10am-6pm and Sunday, 12pm-4pm.
—Ali Rouse Royster
locals
locals
Donny & Kara Rouse tailgate with friends at University of Louisiana at Lafayette football game.
Ali Rouse Royster