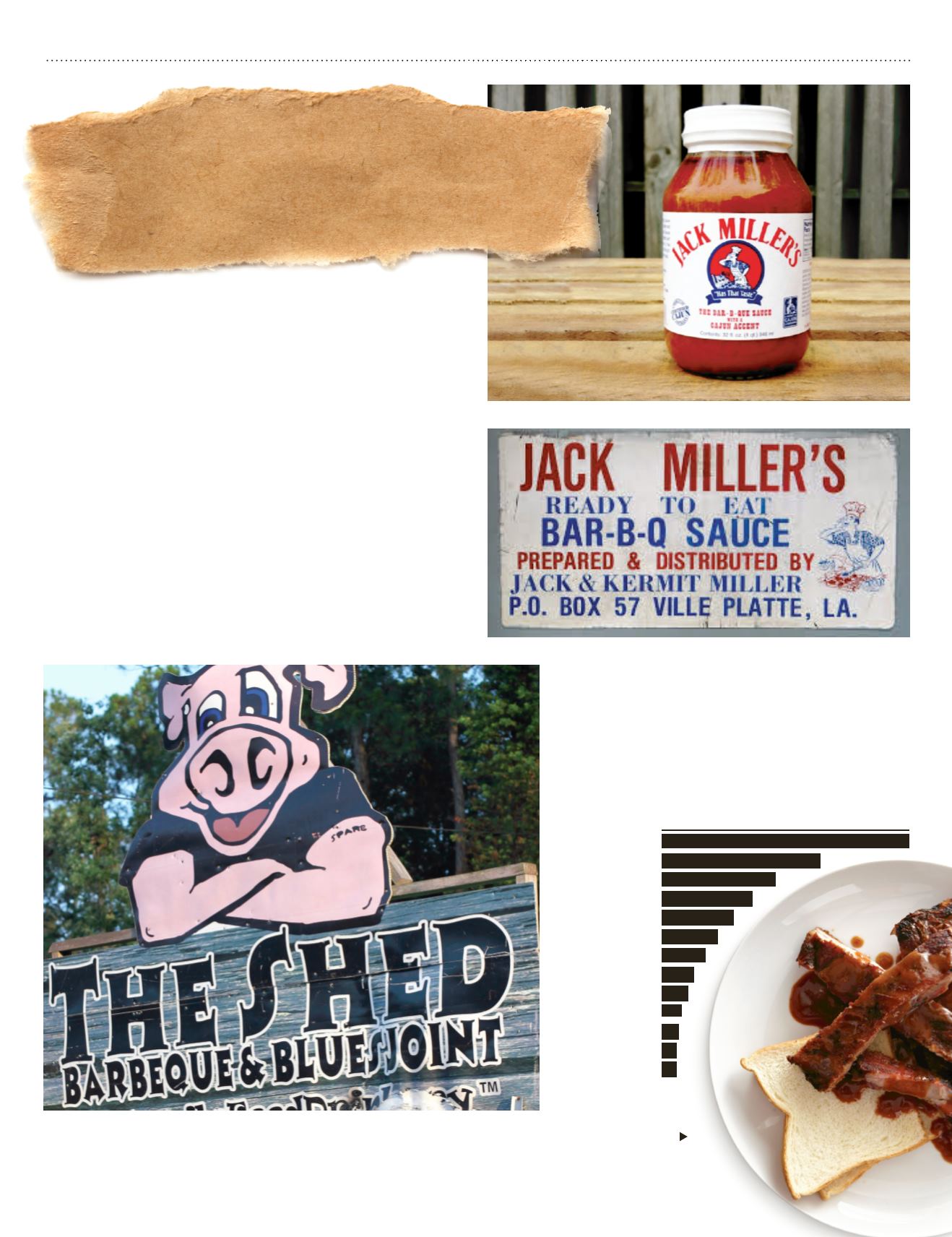 smokehouse sauces
he way I've heard it, from the moment Jack Miller opened
the original American Inn Restaurant in Ville Platte,
Louisiana, in 1941, his customers began requesting jars
of his tangy, sweet, red sauce to take home with them (they even
brought their own jars). Not one to miss an opportunity, Jack rigged
up a manufacturing system using what his son Kermit refers to as
And a sauce boss was born.
Jack Miller first sold bottles of his barbecue sauce to my father-
in-law, Anthony J. Rouse, Sr., then to my brother-in-laws, Tommy
and Donald. I've personally known Kermit since the days of the
Rouses Food Shows in Thibodaux and Houma. I've always been
a big fan of Kermit and his family's product,
Jack Miller's Bar-B-
Que Sauce.
As the bottle states, it "has that taste" we know and love
(which is why it's so popular at Rouses). I like it on ribs, chicken,
pork chops, sausage and burgers.
shedheads
There are Parrot Heads, Dead Heads and ShedHeads.
It was those ShedHeds who helped Brad Orrison and
his family expand an original 300-square-foot takeout
spot in Ocean Springs, Mississippi, into
The Shed
Barbecue & Blues Joint
, a 10,000-square-foot space
with 120 seats inside, 450 seats outside, and a stage for
live blues on Friday and Saturday nights. The Shed's
sauces include a traditional Southern Sweet sauce, a
mustardy South Carolina sauce, and a
thin, Western North Carolina-
with cider vinegar, brown
reD, wHIte
& roUGAroUX
by
Tim Acosta, Rouses Marketing Director
Dreamland, Tuscaloosa, AL — photo courtesy
AlabamaTourismDepartment,