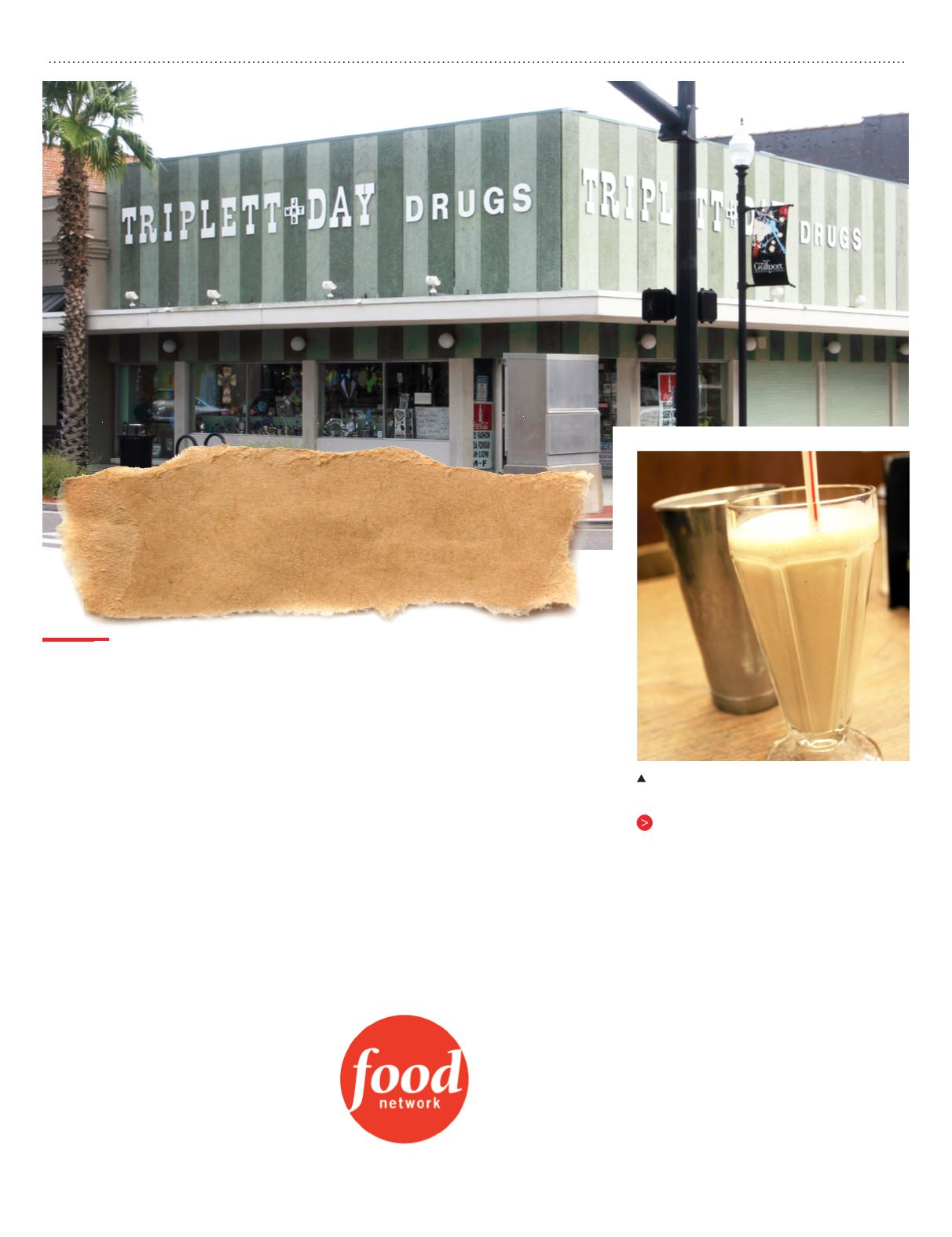 eAt lIke A loCAl
here used to be one in every small Southern town. It was primarily a drugstore,
with a few other odds and ends for sale, but there was always a lunch counter.
Over the last fifty years things have changed and, sadly, few remain open.
Sixty years ago Jim Day bought what was to become Triplett Day Drug Store in
Gulfport. The pharmacy does a brisk business, and the shelves are still full of merchandise,
but when it opens at 8 a.m. the lunch counter becomes the center of attraction.
The menu is pretty basic and hasn't changed much over the years, and the one you will find
on the counter is a bit tattered from wear. There's always a good breakfast to be had and a
great selection of sandwiches, including a pretty good burger that will set you back $2.50. If
you make it a double with cheese it's still only $3.75.
What most of the regulars come for are the daily specials. The menu is printed on a small
handbill, and it's just about as well worn as the menu. There are four specials to choose
from, all good, all classics. The milkshakes are still made in a stainless steel mixing cup and
are served in a real fountain glass. Not much seems to have changed at this lunch counter.
But that is not entirely true. Owner Jim Day says they had been making biscuits from scratch
for years, when someone came in and asked for a beignet. Someone had the bright idea of
deep frying the biscuit dough, and the results became pretty popular. Fifteen years later, social
media showed up and the word got out about
the biscuit batter beignets. Then new faces
There are far too few of these wonderful
lunch counters left in the Deep South, but
you are just not going to find biscuit batter
beignets anywhere else. Next time you pass
through, step back half a century and rub
by
Julian Brundt +
photos by
Julian Brundt
The beignets at Triplett Day Drug Company in
Gulfport were voted best breakfast in Mississippi
by Food Network Magazine. Their other Gulf
Coast bests? Eggs Mauvila at Café 615 in Mobile,
Alabama and the Got Boudin? Omelet at Café des
Amis in Breaux Bridge, Louisiana.
Eat Like A Local
Triplett Day Drug Company, Gulfport, MS
Lunch counter hours 8 a.m. to 2:30 p.m.
Also try:
Burnham Drugs, Moss Point, MS
"Enjoy a nice breakfast or a classic pimiento
cheese sandwich amid the gracious hospitality of
this little drug store and soda fountain diner."
Triplett Day's Old Time Milk Shake.