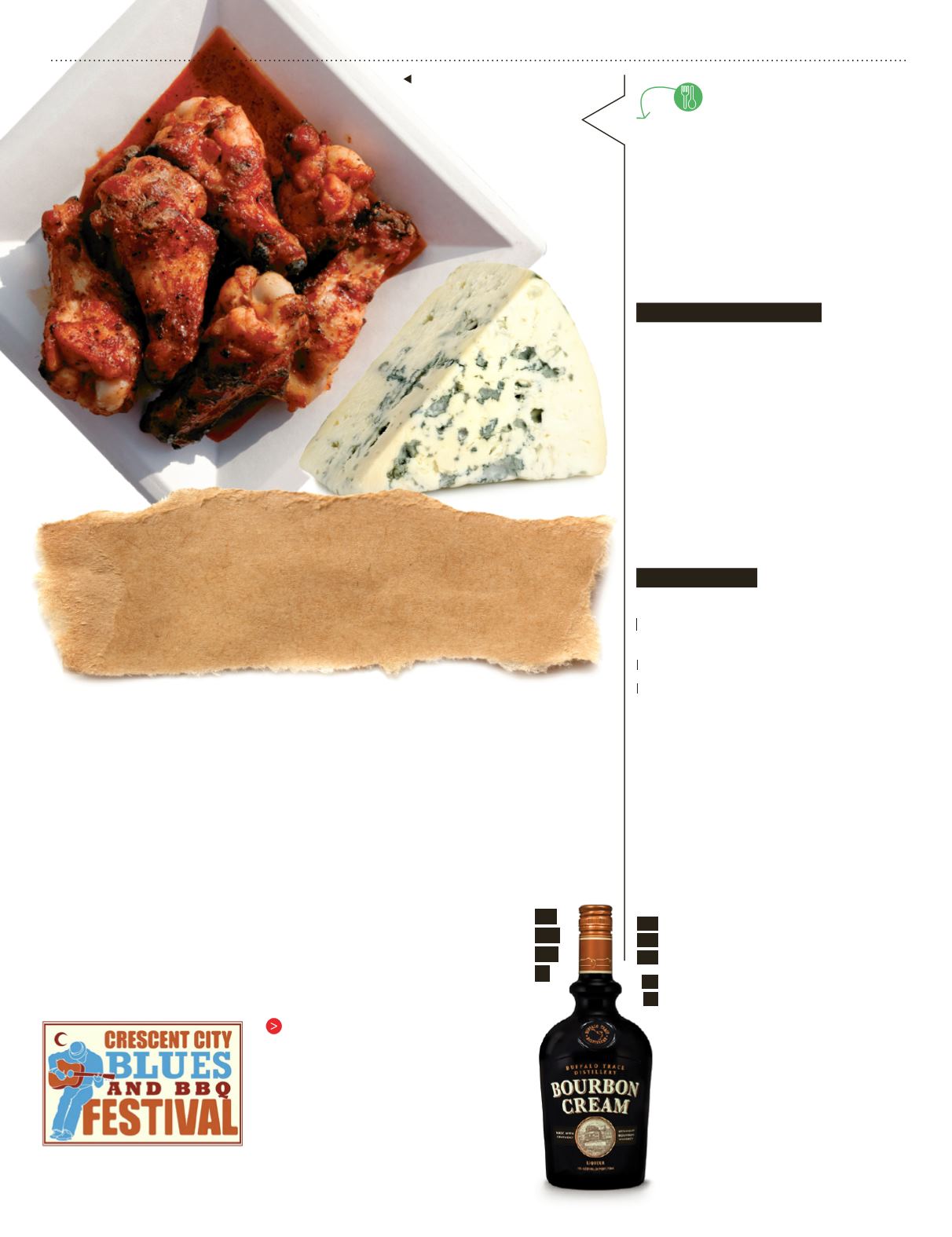 ll cheese, except soy cheese and cream cheese — which, despite the name, some
suggest is not really a cheese — is made with three ingredients: milk, salt, and a
complex of enzymes called rennet. But while most cheese is bacteria-ripened, blue
cheese is mold-ripened. Penicillium (the mold, not the drug) is what gives blue cheese its
distinctive molding and smell.
Here's the recipe: Penicillium is mixed in with milk, salt and rennet, but it's not activated
until later, when the wheels of cheese have set and oxygen is introduced. Then the
cheesemakers use long, stainless steel needles to prick wheels of cheese so the oxygen can
circulate and mold can grow. The veins you see in a wedge of blue cheese are the paths the
mold had traveled from inside to outside a wheel of cheese.
Blue cheese is usually sharp, sometimes stinky, but there is no one flavor of blue
cheese. The milk used, climate, aging process, even the shape and size of the wheel
affect the flavor, which is why Roquefort made in France tastes different from
Stilton produced in England, and Stilton from England tastes different from
Cashel Blue from Ireland.
BBQ Buffalo trace wings
with Blue Cheese sauce
Tim Acosta, Rouses Marketing Director
When I hear Buffalo, I think Buffalo Trace
Bourbon. I like to grill wings instead of baking
or frying them, but BuffaloTraceCream is the
real secret to my sauce.
WHAT YOU WILL NEED
12 ounces Crystal Hot Sauce
cups Buffalo Trace Bourbon Cream
ounces Roquefort, Stilton or blue cheese,
tablespoons tarragon or white wine vinegar
½ teaspoon Rouses black pepper
and marinated chicken wings
tablespoons Rouses Cajun Seasoning
HOW TO PREP
Separate blue cheese for sauce and garnish. You
will need 4 ounces for the sauce, 2 ounces for the
FOR THE BUFFALO TRACE CREAM SAUCE
In a medium saucepan, melt butter over moderate
heat. Add Crystal Hot Sauce, increase heat to high,
and cook, whisking continually for five minutes or
until mixture is reduced by half. Reduce heat to low,
add Buffalo Trace Bourbon Cream to pan, and cook,
whisking continually until mixture is reduced and
thickened, about 3 minutes. Remove from heat.
FOR THE BLUE CHEESE SAUCE
In a food processor or blender with a steel blade,
process 4 ounces of the cheese, mayonnaise, heavy
cream, vinegar, salt and pepper until smooth.
Remove the wings from the refrigerator at least 30
minutes before grilling. (When chicken has reached
room temperature, you're ready to cook.)
Preheat grill and lightly coat grates with canola
or vegetable oil. Place chicken wings directly
over the fire and grill, turning frequently, until
browned and slightly charred, about 17-20
Transfer wings to mixing bowl and toss with
Buffalo Trace Cream sauce to coat. Sprinkle
with remaining blue cheese crumbles. Serve
with blue cheese sauce and celery sticks for
(Serves 6)
reCIpe,
try me!
by
Rouses Chef Nino
Find Us at the Fest!
Look for the Rouses tent at
the Crescent City Blues &
BBQ Festival, Friday, October
17th-Sunday, October 19th in
Lafayette Square Park, New
Orleans. We'll be cooking!
photo by
Frank Aymami